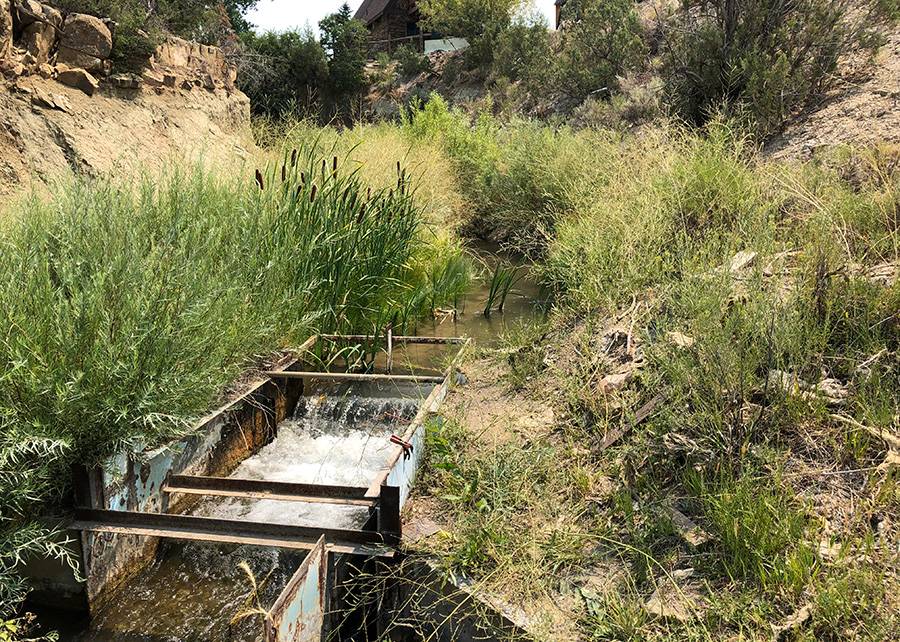 The Grand Tunnel Ditch in Garfield County
The Grand Tunnel Ditch (5GF.2913) was originally built in 1882 to irrigate approximately 17 acres outside Rifle Colorado. The ditch has been expanded and enlarged several times over the years and today the ditch irrigates between 500 and 700 acres of land annually. In addition to agricultural users, the ditch also provides water for residential and municipal irrigation. The resource was determined to be eligible for inclusion in the National Register of Historic Places for its contribution to the historic settlement and agricultural development of the area around Rifle, Colorado.
In 2019, a segment (5GF.2913.6) of the upper section of the Grand Tunnel Ditch was recorded as part of a NRCS Environmental Quality Incentives Program (EQIP) project. At the time, the NRCS proposed to replace two failing sections of the ditch with buried pipe to improve efficiency and maintainability. The segment in question was determined to retain sufficient integrity of location, design, feeling, and association to support the eligibility of the larger resource. The impacts of piping this portion of the ditch were mitigated by including the resource in the larger Irrigation Ditches and Canals StoryMap series.
Authors: Natural Resources Conservation Service
Keywords: NRCS, Irrigation, Ditches, Canals